Our Branch's Original Fundraising Idea
DFS events raise funds for scholarships, give members opportunities to meet in small groups for worthwhile experiences, and introduce AAUW to non-members.
Proceeds from DFS events support scholarships for local nontraditional women students.
---
We are celebrating  the 27th year of  "Dollars for Scholars." In the summer of 1993, our branch, then approximately 85 members strong, was considering new ways to raise scholarship money. "Dollars for Scholars" was the brainstorm of member Barb Smoltz. The goals were to raise money  for scholarships, give members an opportunity to interact in small group settings,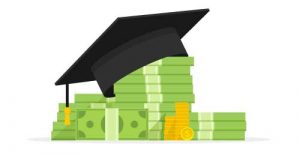 provide new experiences for members, and to introduce AAUW to non-members.
Although some were concerned that we would not be able to think of enough activities, it was decided to give the program a try. Twenty-seven years and countless varied activities later, a membership that today numbers around 250 is still brimming with ideas, and our goals have remained constant. Each time members sponsor or participate in an activity,  they are saying YES to education and educational equity for women and girls.
ALL EVENTS ARE OPEN TO GUESTS.  EMAIL  Susie Teicher  and Marilyn Fletcher ,  the   2019 – 2020 Dollars for Scholars Chairs
It is very easy to sponsor an event!
Look at some of the trips from past years for ideas, such as special exhibits at the St. Louis Art Museum, visits to historic homes, or a trip to the Churchill Museum in Fulton. Trips can be repeated.
Remember that spouses and friends are welcome to join in DFS events.
We always need new people to sponsor events. Team up with a friend or two to sponsor an event.   Contact DFS chairs

for additional assistance.
---
When: Saturday, December 7
Where: Carpool from Trinity Lutheran at 9:45 a.m. or go directly to the starting point at Gene Slay's  Boys Club of St. Louis,   2524 S. 11th St.
Ride a shuttle through Soulard, St. Louis' oldest historic neighborhood, and see all the beautiful holiday decorations.
Sponsor: Sage Taber (see Sage's contact information in the Directory)
---
Buy Books– Used Book Sale At Every Meeting
All proceeds will go to Dollars for Scholars. Donate your books, puzzles, CD's, & DVD's to be sold at November, January – April meetings. The book sale will not be held at the December winter event. Unsold books will be sold to local used book stores. Last year the Used Book Sale earned over $1,300 thanks to your generosity in donating and buying books. Let's do it again! You can clean your bookshelves, help a worthy cause, and get some bargains in good books.
Questions? Contact Mary Kay Wolfe
---
Panera Bread Cards
We started in September with 400 cards–only 97 remain. The November branch meeting will be the last sale this year, so plan to stock up and beat the holiday hustle. Let the little green cards bring happiness to many. Every $10 card we sell returns $1 to our B-C Branch. Our scholarship recipients will be so thankful! Let's see if we can spread the bread! If you wish to reserve some cards, please email Bette Bude or Carol Anthony.
---
Memories of  past events…
October 31 – Missouri Botanical Garden and the Shaw House -Sponsors: Jayne Kasten and Michelle Mangnall
The "wintry" fall weather was no deterrent for our intrepid group as members gathered for a docent led tour. The garden's beauty transcends all weather, and the tour of Shaw's home was memorable (see photos below).   Lunch followed at  3 Monkeys afterwards, in the historic Tower Grove neighborhood.
.  Click on any picture to view it full-sized it or as a slideshow.