Our Branch's Original Fundraising Idea
DFS events raise funds for scholarships, give members opportunities to meet in small groups for worthwhile experiences, and introduce AAUW to non-members.
Proceeds from DFS events support scholarships for local nontraditional women students.
---
We are celebrating  the 27th year of  "Dollars for Scholars." In the summer of 1993, our branch, then approximately 85 members strong, was considering new ways to raise scholarship money. "Dollars for Scholars" was the brainstorm of member Barb Smoltz. The goals were to raise money  for scholarships, give members an opportunity to interact in small group settings,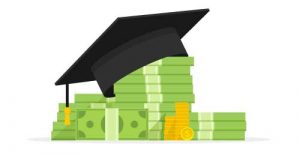 provide new experiences for members, and to introduce AAUW to non-members.
Although some were concerned that we would not be able to think of enough activities, it was decided to give the program a try. Twenty-seven years and countless varied activities later, a membership that today numbers around 250 is still brimming with ideas, and our goals have remained constant. Each time members sponsor or participate in an activity,  they are saying YES to education and educational equity for women and girls.
ALL EVENTS ARE OPEN TO GUESTS.  EMAIL  Susie Teicher  and Marilyn Fletcher ,  the   2019 – 2020 Dollars for Scholars Chairs
It is very easy to sponsor an event!
Look at some of the trips from past years for ideas, such as special exhibits at the St. Louis Art Museum, visits to historic homes, or a trip to the Churchill Museum in Fulton. Trips can be repeated.
Remember that spouses and friends are welcome to join in DFS events.
We always need new people to sponsor events. Team up with a friend or two to sponsor an event.   Contact DFS chairs

for additional assistance.
---
Buy Books– Used Book Sale At Every Meeting
All proceeds will go to Dollars for Scholars. Donate your books, puzzles, CD's, & DVD's to be sold at November, January – April meetings. The book sale will not be held at the December winter event. Unsold books will be sold to local used book stores. Last year the Used Book Sale earned over $1,300 thanks to your generosity in donating and buying books. Let's do it again! You can clean your bookshelves, help a worthy cause, and get some bargains in good books.
Questions? Contact Mary Kay Wolfe
---
Dollars For Scholars Events
Learning, Entertainment and Adventure for a good cause!
---
Genealogy Workshop "Working Through Your Brick Walls". Friday, March 27, 1-3 p.m.
This session will be held at the St. Louis County Library Headquarters and be led by Larry Frank. ( Some familiarity with genealogy and computers will help).  Save your results on a flash drive.  For further details, or to register, contact Roz Marx (see your directory for contact information).
---
Aquarium at Union Station –

CANCELED
Interact with 13000+ sea animals and explore life beyond the ocean at the all-new St. Louis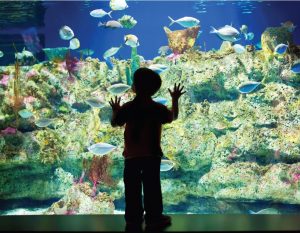 Aquarium at Union Station. Embark on this Dollars for Scholars aquatic journey  and sign up with Marian Bauer (contact information in the Directory).
---
Jazz St. Louis – The Manhattan Transfer. 
Wednesday, April 1, 2020 – 11:00 AM
(Coffee, tea, and pastries at 10:AM) Cost: Approximately $48 (Lunch Afterward)
Celebrating their forty-fifth anniversary in 2017, the Manhattan Transfer continues to set the standard as one of the world's greatest and most innovative vocal groups. Winners of ten Grammy Awards, with millions of records sold worldwide, this amazing quartet is building upon the extraordinary legacy created by founder Tim Hauser who organized the four-part harmony group on October 1, 1972, in New York City.  Contact Roz Marx (check your directory for her info.) to register. Carpool from Trinity Lutheran.
---
Saturday, April 25, 2020 | 2:PM Start Time
This is an image of the Playbill from the original Broadway production of the musical Bright Star – Thank you Wikipedia!
Come to a production of the Webster University Theatre Department on the Loretto Hilton Mainstage, written by Steve Martin & Edie Brickell. Dinner afterward! The Broadway staging of this musical won:
2016 Drama Desk Award for Outstanding Music
2016 Outer Critics Circle Award for Outstanding New Score
2016 Outer Critics Circle Award for Outstanding New Broadway Musical
Contact Roz Marx to register for this event. Check your directory for her email address. Only 15 seats! Read more about this musical on Wikipedia – Bright Star.