—It is our mission to advance gender equity for women and girls through research, education, and advocacy.
---
Come To A Monthly Meeting
Next Branch meeting Thursday, October 8 at 9:30 AM

by ZOOM
Monthly meetings will be held via the Zoom™ virtual meeting platform as long as we are unable to safely gather. If you would like to attend a meeting with us on Zoom™, contact us for the meeting ID and password.
---
Traditional Annual Fall Brunch & Social Gathering
(Tentative plan)
Saturday, October 10, 2020
AAUW Ballwin-Chesterfield invites members and prospective members to this year's Fall Brunch. Join us and get inspired to take actions necessary to strengthen our emphasis on education, training, and leadership. We are gathering in the rear parking lot of Trinity Church.  To picnic outdoors, bring your own lawn chair – and socially distance, of course.
Please reserve your lunch choice and let the committee know if you can help serve:
1. Country Colby Wrap with sugar-smoked ham, roast beef, Colby cheese, lettuce, in tortilla with secret dipping sauce (on the side)
2. The Vegetarian with fresh veggies, gouda & Swiss cheese on stone wheat bread
3. Mesquite turkey with gouda cheese on a croissant
4. Vegan or gluten free upon request
Please contact Jean Elliott (See your directory for contact information) to order and reserve your lunch by October 2.
****Be aware that cancellation is possible if St. Louis County COVID numbers increase. Emails will be sent to notify you of a cancellation.
---
2020 Eleanor Roosevelt Walk
October 13, 2020
Des Peres City Park
12325 Manchester Road 63131
You are invited to join your AAUW friends at the beautiful Des Peres Park for our annual Eleanor Roosevelt Walk. There is no reservation fee, but your donation will go to support research on topics important to AAUW goals and mission.
Please sign up at our October Fall Brunch meeting and make your donation to: AAUW Fund #4450.
This fund ensures the strength, relevance, and viability of AAUW into the future.
---
Plant a Yard Sign for Women!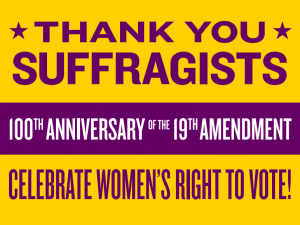 August 26, 2020, is the 100th Anniversary of the certification of the 19th Amendment. After 60 years of organizing, meeting, protesting, lobbying, and marching, women in every state were officially granted the legal right to vote. Of course, it took almost four more decades for women of color to be able to fully exercise that right. 100th Anniversary programs, proclamations, websites, and celebrations were planned across the nation, but of course many public events had to be cancelled due to COVID-19.   Kirkwood–Webster Groves AAUW has designed a celebratory sign in the colors of the U.S. suffragist movement.  The project, Plant a Yard Sign for Women, thanks the suffragists and is a subtle reminder that women have not always had a voice in local, state, and national government. Click on the link to learn more…
Proclamations Acknowledging 100th Anniversary of
the Ratification of the 19th Amendment
Top Row: Left photo: Pat Shores, Sage Taber, and Jan Horner receive the signed proclamation from Bob Nation, Mayor of Chesterfield. Right photo: Sage Taber, Pat Shores, and Jan Horner accept City of Ballwin proclamation.
Bottom Row: St. Louis honors Women's suffrage, and LWV celebrates the event.
Read the proclamation language by clicking here.
---
AAUW is committed to Every Voice, Every Vote. We can only do that if every citizen can exercise the right to vote. We are celebrating the centennial of the 19th Amendment, in which women in every state were officially granted the legal right to vote. However, it took four decades for women of color to fully exercise their voting rights. AAUW is pushing hard for state legislation and the federal John R. Lewis Advancement Act. These legislative actions would restore voting procedures that were stripped away in 2013 from the 1965 Voting Rights Act. AAUW is one of 155 civil rights organizations urging immediate congressional action on voting rights. Learn more here…..
Important Dates for the November Elections:
September 22 – Absentee voting starts, and National Voter Registration Day
October 7 –  Last day to register to vote
October 14 – Recommended deadline -apply to vote absentee due to possible mail delays
October 21 – Official deadline to apply to vote absentee
November 3 – Election Day
Please reach out to Karen Francis or Angie Janik (See directory for contact info), if you have any questions about voting.  ~ Karen Francis & Angela Janik,  Co-directors, Public Policy
---

Schnucks Rewards Program
Schnucks has a special program which supports community groups.   If you would like to give the credit for any amount you spend there to Ballwin-Chesterfield, please present your card at the beginning of the transaction. B-C appreciates your donations.  See information and card application here….
---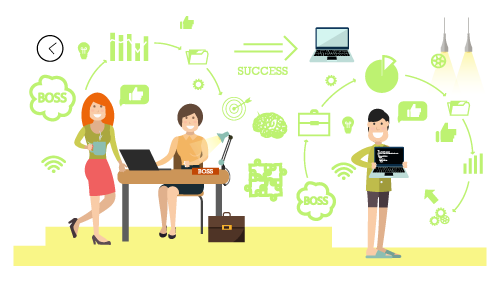 Take the WORK SMART program to train workers in salary negotiation skills,  and become an AAUW advocate! The course is online and there is no charge.
These Ballwin-Chesterfield members have taken the course!  They pose proudly with the publicity bookmarks.
---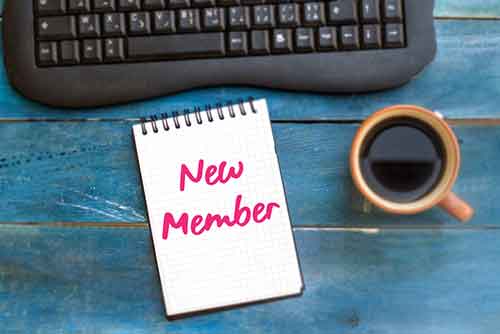 About Our Branch

Our Mission Statement:  AAUW advances gender equity for women and girls through research, education, and advocacy.

The Ballwin-Chesterfield Branch is a nationally recognized major contributor to the AAUW Fund.

Ballwin-Chesterfield has funded two Research and Projects Grants, and awards scholarships to local mature women returning to their undergraduate degree programs after time away from school.  Learn more  about our branch, which was founded in 1981. Read about our branch's history here.

AAUW Ballwin-Chesterfield is a member of the

Metropolitan St. Louis Inter-Branch Council.
---
What is AAUW?
American Association of University Women (AAUW) is a nationwide network of more than 170,000 members and donors, 1,000 branches, and 800 college/university institution partners. For 135 years, AAUW members have examined and taken positions on the fundamental issues of the day — educational, social, economic, and political. Our commitment to our mission is reflected in all aspects of our work. 
AAUW Values are:
Nonpartisan

Fact-based

Integrity


Inclusion & Intersectionality
Visit the National Website and the State website.
Support Us
There are many ways to support our mission. Learn More