Why So Few Overview Project (2011-12)
"Why So Few" is an AAUW research report that explores reasons for the low numbers of women and girls entering STEM fields.  Ballwin-Chesterfield produced a "Traveling Toolkit," giving students, teachers, and parents an overview of the research findings and ways to address them.   View the video.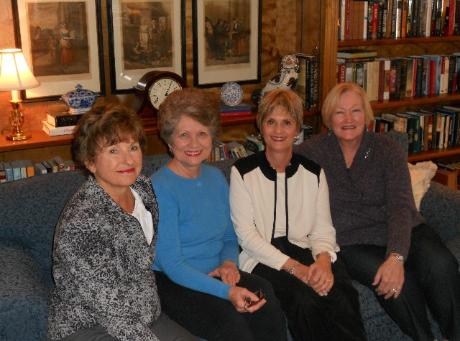 Video authors L to R:
Joyce Katz, Technology Advisor
STEM COMMITTEE
Bette Bude
Mary Jermak
Marcia Block
---
     Ballwin-Chesterfield Branch Research and Projects Grants
Since 1888, AAUW has been one of the largest funders of women's graduate education.  AAUW has given more than $115 million to over 13,000 women and nonprofit organizations around the world.
Over the past 20+ years, the Ballwin-Chesterfield branch has supported AAUW's funding of women's education and nonprofit organizations by establishing and completing two Research and Project Grants.  In 1998 the branch started the Ballwin-Chesterfield (MO) Branch Research and Projects Grant (#4112).  Through generous individual donations and proceeds from Dollars for Scholars, the grant reached the completion level of $35,000 in late 2004.
After completing the funding of that grant, in true branch tradition and without missing a beat, Ballwin Chesterfield started a new grant in 2005 to commemorate the branch's 25th anniversary  – The Ballwin-Chesterfield (MO) Branch Silver Research and Projects Grant (#4286)."  This $75,000 grant was fully funded in February 2012, three years ahead of schedule, and represented nearly seven years of fundraising, Dollars for Scholars events, individual contributions, and branch focus.
The funding created by our grants is used annually to benefit women preparing to change or advance their careers or reenter the work force, and for worthy projects that promote equity for women and girls.  Read about the recipients of Ballwin-Chesterfield's grants at
https://www.aauw.org/resources/programs/fellowships-grants/directory-of-recipients-sponsors/   Click on Search the Directory, and then search by fund number (#4112 or #4286).
All of the members of Ballwin-Chesterfield are justifiably proud of completing these grants and supporting AAUW's mission of promoting gender equity, lifelong education, and positive societal change for women and girls.