AAUW B-C STEM Activities
  STEM EVENTS CONNECT THE BRANCH TO the ST. LOUIS COMMUNITY:Updates from STEM Directors Barb McQuitty and Carol Greenaway
Also see information about branch Science Fair support. 
In the spring of 2019 the STEM committee  held "STEM girls of Promise Events" at Maplewood-Richmond Heights  and at Valley Park High School ,
The High School junior women were recognized at  celebratory breakfasts, and were joined by parents, teachers, and B-C members.   Each STEM Girl was presented with a letter, $25 cash, a certificate, and a science medal by Carol Greenaway and Barb McQuitty.  (Click on any picture for full-sized view.)

Valley Park High School Honorees:
From Left: Leah C., Amera A., Lucy C., Meghan W., Haley W.
Valley Park High School STEM Girls of Promise with Ballwin Chesterfield STEM sponsors..  From left, Row 1: Leah C., Amera A., Lucy S., Meghan W., Haley W., Carol Greenaway, Barb Mcquitty.
Row2: Pat Shores, Sandra Murdock, Doris Nistler, Marilyn Fletcher, Marcia Block, Linda Roberson, Susan Schriver, Jean Elliott, Ann Hansen, Denise McKibben
STEM Girls of Promise honored at Maplewood-Richmond Heights High School in May 2019.
Ballwin Chesterfield also supports the Expanding Your Horizons (EYH) program for girls in St. Louis.  This STEM program seeks to bring female mentors from science fields into contact with young women students to encourage careers in STEM fields. 
"Why So Few" is an AAUW research report that explores reasons for the low numbers of women and girls entering STEM fields. Ballwin-Chesterfield produced a "Traveling Toolkit," giving students, teachers, and parents an overview of the research findings and ways to address them.  View the video.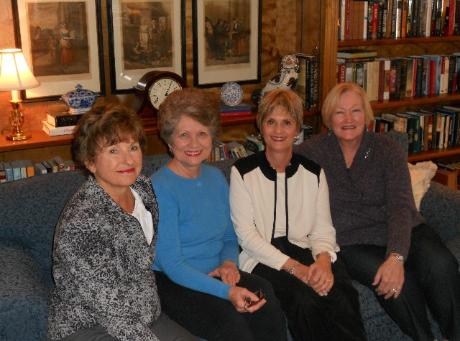 Video authors L to R:
Joyce Katz, Technology Advisor
STEM COMMITTEE
Bette Bude
Mary Jermak
Marcia Block
Ballwin-Chesterfield Branch Research and Projects Grant
In 1998 the Ballwin-Chesterfield branch began the process for establishing an AAUW grant. Through generous individual donations and proceeds from Dollars for Scholars the grant reached the completion level of $35,000 in late 2004. This grant, the Ballwin-Chesterfield (MO) Branch Research and Projects Grant (#4112), has sponsored Community Action Grants for several worthy projects.   In true branch tradition, without missing a beat, we started a new grant to commemorate the branch's 25th anniversary "the Ballwin-Chesterfield (MO) Branch Silver Research and Projects Grant (#4286)." This grant was fully funded (see below) in February 2012.
Cause To Celebrate! Completion Of The Silver Anniversary Grant!
Our branch has cause to celebrate! We have completed our $75,000 Silver Anniversary Research and Projects Grant! The funding created by our grant, started in 2005 and completed three years ahead of schedule, will be used annually to benefit women and will provide sponsorship of worthy projects for years to come.
Funds from Research and Projects Grants are used at the National level in one of two areas. Career Development Grants support degreed women preparing to change or advance their careers or reenter the work force. Community Action Grants provide funds to individuals as well as local community-based nonprofit organizations for innovative programs that promote equity for women and girls.
All of us here at Ballwin-Chesterfield have much to be proud of in this accomplishment. The completion of the grant represents nearly seven years of fundraising, Dollars for Scholars events, individual contributions, and Branch focus. Through this grant, we have supported AAUW's mission of promoting equity, lifelong education, and positive societal change. Bravo!   (by Jan Horner and Mary Kay Wolfe,past EOF Chairs)